Liberty Hall - Good Reviews!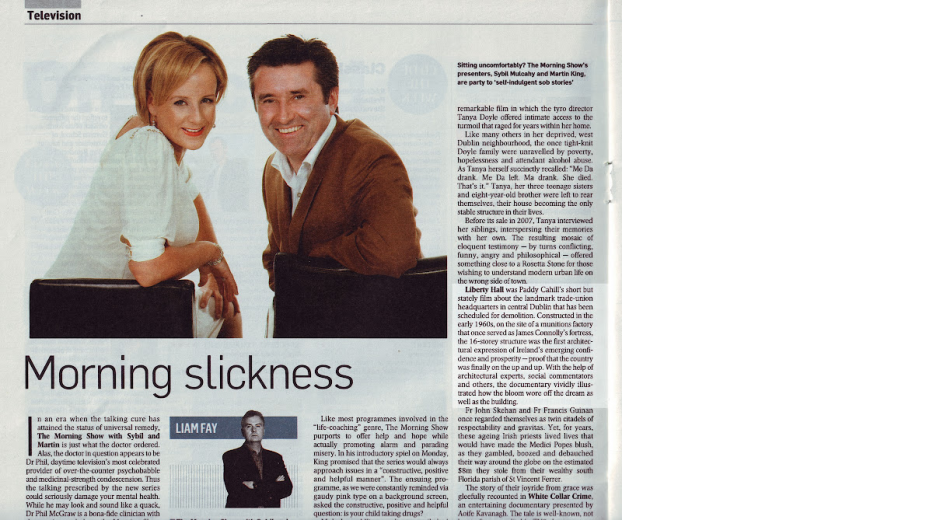 After its recent broadcast on RTÉ1 Liberty Hall has recieved a couple good reviews in the Sunday Times and the Sunday Business Post.
Sunday Times
From the Sunday Times, May 17 2009:
"Liberty Hall was Paddy Cahill's short but stately film about the landmark trade-union headquarters in central Dublin that has been scheduled for demolition. Constructed in the early 1960s, on the site of a munitions factory that once served as James Connolly's fortress, the 16-storey structure was the first architectural expression of Ireland's emerging confidence and prosperity- proof that the country was finally on the up and up. With the help of architectural experts, social commentators and others, the documentary vividly illustrated how the bloom wore of the dream as well as the building."
Sunday Business Post, May 17 2009:
* On December 1,1972, the audience in the Carlton cinema in O'Connell Street heard and felt a bomb explode. It was Friday and the precise time was 7.58pm. I was there reviewing a film for the next day's Evening Press.

The bomb had gone off outside the Liffey Bar on Eden Quay, across the river from the Irish Press building on Burgh Quay where I worked. Some 30 people had been injured as the bomb, in a blue Hillman Avenger, shattered both the pub and the glass of Liberty Hall towering over it.

However, two men would die and 90 people would be injured when, at precisely 8.16pm, a second bomb went off at Sackville Place. The silver-grey Ford Escort carrying the bomb had been parked in the narrow street which I'd passed after leaving the cinema, just minutes before.

The bombs on that fatal and fateful night, recalled in Paddy Cahill's film Liberty Hall (RTE One), helped make up Fine Gael's mind in the debate on the controversial Offences Against the State (Amendment) Bill introduced by the Fianna Fáil government.

It was regarded by the Labour Party and many civil libertarians as repressive, but was carried - as a consequence of the bombs - on the very night they went off. Cynical opinion never doubted that the carefully timed explosions had been orchestrated by some dirty tricks department of the British military.

There would be much more terrible bombs in Dublin, but the bomb that damaged Liberty Hall that night forced changes in the appearance of the building that last to this day, and that was why it became a factor in the argument for seeing the modest-enough modernist tower as a disfigured beauty.

Most Dubliners, used to their domes, pillared porticoes and the calming perspectives of long Georgian streets and squares, however decayed, would have said the modern Liberty Hall, built on the historic site of the transport union's headquarters and the HQ of the Irish Citizen Army up to 1916, was never the prettiest thing on the Dublin skyline.

It certainly was the tallest, looking down on Nelson's Pillar for a few months until the pillar itself was blown up in 1966. After that, Liberty Hall for many years was the only place in the city where Dubliners could get above themselves.

It wasn't even the first large modernist building in Dublin city centre. Across Beresford Place, Michael Scott's Busaras had been cheekily hoisting its undulating dancer's skirt of a roof at James Gandon's Custom House for more than a decade when Liberty Hall was completed in 1965. And many Eblanites didn't much like that either.

But it wasn't as if the Custom House (which, after all, the Dublin IRA had burned in 1921) and its precincts were sacrosanct: in 1891 another kind of practical modernity had seen that contentious bruiser of a bridge, the Loopline, muscle across the Liffey and block the view from upriver of Gandon's masterpiece. When I was growing up the area was semi-industrial, with a huge Brooks Thomas yard on Beresford Place, and the docks working all the way up to Butt Bridge.

Irish architecture critic Shane O'Toole and architectural historian Ellen Rowley of TCD made the case for loving Liberty Hall, for keeping as an example of a good 1960s building in the midst of numerous Dublin horrors of the period.

When it was first built, O'Toole said, it had been a transparent building. You could see through the corners, and early photographs show the building had a lightness it no longer has. Why? Because of the bomb in 1972. When they replaced the windows they covered them with a safety film and, Rowley says, this made the building no longer translucent but reflective. Also, its external mosaics have been covered over by a grey substance.

Architect Desmond Rea O'Kelly was influenced by Frank Lloyd Wright's pre-war Johnson Wax HQ in Racine, Wisconsin. Siptu, successor to the Irish Transport and General Workers Union, has plans to tear down Liberty Hall, but the recession may have granted the building a stay of demolition. Destruction is a prospect that saddens but in ways amuses its architect.

''I'd be sorry to see it go, and I'm sorry because of the various changes that were made, in the wrong. It never held the bloom of youth," said Rea O'Kelly. ''Well I've developed into a situation where I'd say maybe my design wasn't as clever as I thought It was. Maybe they're right. Maybe they should take it down, I don't know.

''They're going to have a hard job getting it down because it was a hard job getting it up. . . I don't know if modern technology will find them an easy way. Then it's okay, but if it's not then it's going to cost them a bomb to get it down. And I'm nasty enough to hope it does, you'll understand. That's not a very nice thing to say, but you'll grasp any straw to try and hold on to what you've left."
http://archives.tcm.ie/businesspost/2009/05/17/story41674.asp
https://picasaweb.google.com/paddycahill/WebsiteImages#5499340810107913698