My article for Docomomo US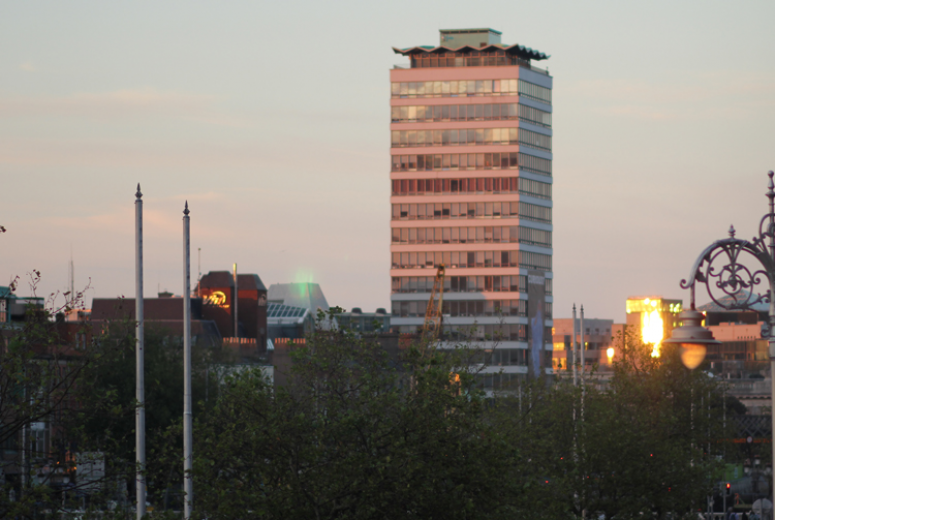 I recently wrote an article about Liberty Hall for the US branch of the organisation docomomo.
INTERNATIONAL VIEWS: DUBLIN'S LIBERTY HALL
Dublin, the capital city of the Republic of Ireland, has fewer high-rise buildings than most of its European counterparts. Even so, advanced plans are under way to demolish the city's first and currently tallest sky-scraper, Liberty Hall.  Ireland's largest trade union SIPTU owns the site and is working with Gilroy McMahon Architects on the replacement which has just been granted permission from Dublin City Council.
There has been considerable opposition to the destruction of buildings in Dublin from earlier times, Georgian in particular. But architecture from the last 100 years is afforded less protection and support. Going back a century or so, the Northumberland Hotel previously stood on this site by the River Liffey between the Customs House and the city centre.  The Irish Citizen Army was housed here when it was defending workers against the authorities during the 1913 Lockout and it played a central role in the 1916 Rising. During this time, the hotel was the first target of a British gunship known as the Helga, while it was on its way upriver to shell the GPO. Following this, the building was patched up and became the headquarters of the Irish Transport and General Workers' Union.  By the end of the 1950s the building had fallen into disrepair, so the union decided to replace it with a new building and the architect Desmond Rea O'Kelly was commissioned. In recent years he admitted to being greatly influenced in his design by a picture he had seen of Frank Lloyd Wright's Johnson Wax Factory in Wisconsin. Construction began on Liberty Hall in the early 1960s and "Ireland's first sky-scraper" was completed in 1965 to much awe and excitement.  In its original form, the building presented most of its 16-stories simply, as a slender stack of alternating layers of light and dark capped by a distinctive zig-zag copper roof.  The concrete floor-plates were tiled with white mosaic which contrasted with shaded office interiors visible through transparent glass.  This impression inverted at night when the illuminated offices on each story appeared to float above the other as the unlit mosaic disappeared against the dark sky.  By day, the original glazing allowed you to see sky through the corners of the building.  Creating a lightness of effect that architectural historian Ellen Rowley compares to "a skeleton that's draped in a glass garment". A large explosion from a car bomb left outside Liberty Hall in the winter of 1972 blew out most of the glass.  When this was being replaced however, a reflective silver film was added to all the windows, taking away the delicate translucent effect.  This plastic has since discoloured unevenly and has partially peeled off in many places.  Further to this, the sparkling white mosaics on the floor-plates were later daubed with a putty that has since gone a dirty grey. Since these changes to the facade, Liberty Hall has fallen from grace somewhat in the eyes of the public, and in 2006 the Union advertised for expressions of interest from architects to work with them on a replacement building.  Liberty Hall's architect Desmond Rea O'Kelly, spoke about the future of the building during a public talk at the time, saying "You needn't worry.  I'm not going to shed any tears.  But would they kindly leave it alone until I'm gone!" his wish was granted, he passed away in February last year.Present day photo courtesy of Paul Tierney and the 1965 photo of Liberty Hall courtesy of Brenda Rea O'Kelly-Contributed by Paddy Cahill, Docomomo Ireland. Cahill is an independent documentary director based in Dublin.  To watch his half hour documentary about Liberty Hall visit www.paddycahill.com